Los Angeles has BANNED THE PLASTIC BAG!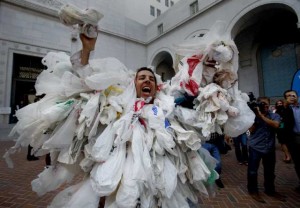 At about noon on Wednesday, May 23rd 2012, with a vote of 13 to 1 (Councilman Bernard Parks cast the no vote),  Los Angeles became the biggest jurisdiction in USA to do this! First there will be a 4 month environmental review of the ban, and then an ordinance will be passed putting it into effect.  Then, the large retailers have a six-month phase-out period before banning the bag, small retailers have a 12-month phase-out period, and all retailers must charge 10 cents for paper bags beginning a year after the program starts. This ban will affect an estimated 7300 stores! Go REUSABLE!
Great job LA, lets go STATEWIDE with the ban next!
Read more about the ban at
http://latimesblogs.latimes.com/lanow/2012/05/la-makes-history-with-ban-on-plastic-bags-at-stores.html
http://usnews.msnbc.msn.com/_news/2012/05/23/11812452-la-becomes-largest-us-city-to-ban-single-use-plastic-bags?lite
Check this out: