We'd like to give a shoutout to our friends at WAVE club at Marina High School in Huntington Beach for their work for World Water Day! World Water Day is today, March 22! In order to initiate a conversation about water at their high school, WAVE created a large poster to inform students of the status of the drought. WAVE members then invited students to write their pledge to conserve water not only today, but every day.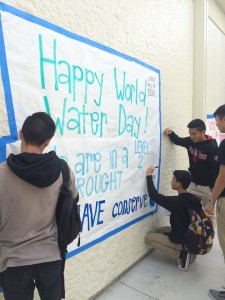 Marina High School student Austin Hwang founded WAVE in response to a lack on environmentally focused clubs on their campus. "I started WAVE in order to raise awareness about things from global climate change to ways to conserve water. Our main goal is to raise funds to provide access to clean water in places like Africa and Asia and it has been definitely both fun and rewarding!"
Here are some more resources for World Water Day.
How can you help?
» Conserve water:
Turn off your faucet when brushing your teeth
Water your grass only when you step on it and it doesn't spring back up
Wash your car only early in the morning or late at night
» Change your Facebook cover photo to raise awareness!
 Why is this day important?
» 1 in 9 people worldwide do not have access to safe and clean drinking water.
» Half of the world's hospital beds are filled with people suffering from a water-related disease.
» Nearly 1 out of every 5 deaths under the age of 5 worldwide is due to a water-related disease.
» By investing in clean water alone, young children around the world can gain more than 413 million days of health!

Thank you Austin and Marina High School WAVE for your work! We hope to implement a similar activism project here in Santa Monica!