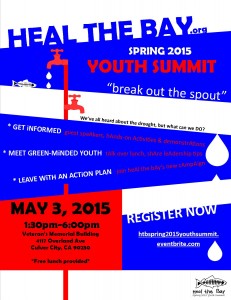 Earlier this month Team Marine members Kimberly Fuentes, Hannah Persinko, and Zoe Parcells made it to the Heal the Bay Headquarters. We learned so much about water conservation but most importantly we and several other students representing their high school played a game and got a sense of what water rationing would be like if this drought gets any worse. No we're not that bad yet but it's only getting worse and let's not wait till we have to ration our water for us to do something about it!
On that note, I would love to invite all of you to HTB's 2015 youth summit that will fall on May 3rd, 2015 from 1:30- 6:00pm at the Veteran's Memorial Building in Culver City California. We highly recommend that you come since last years' summit was so fascinating and engaging! All high school students willing to learn about things that they can do to help stop this drought are eligible and there will be free food! If you're interested in attendeing this amazing event please make sure to RSVP here: 
http://htbspring2015youthsummit.eventbrite.com
Hope to see you all there!