Team Marine is proud to partner with Surfrider's Ocean Friendly Restaurants (OFR) program! The goal of Ocean Friendly Restaurants is to reward restaurants for their beneficial practices.
Team Marine members have begun contacting local restaurants to inform them of this great opportunity. Perks of being an Ocean Friendly Restaurant include decals, informational materials, social media promotion, training of staff, and much more! Many restaurants already qualify for most, if not all, OFR requirements.
The three mandatory requirements include:
1. No expanded polystyrene use (aka Styrofoam).
2. Proper recycling practices are followed.
3. Water conservation efforts such as saving water in a drought, no hosing down outside without capturing the water to reduce urban runoff, and/or proper disposal of FOG (fats, oil and grease) to conserve water and help reduce sewage spills.
Restaurants also choose three of the following to implement:
4. Plastic straws are provided only upon request.
5. Only reusable tableware is used for onsite dining and utensils for to-go food are provided only upon request.
6. No beverages sold in plastic bottles.
7. Discount offered for customers with reusable cup, mug, bag, etc.
8. No plastic bags offered for takeout or to-go orders.
9. Organic, local, and/or vegetarian/vegan food options are offered on a regular basis. All seafood must be a 'Best Choice' or 'Good Alternative' as defined by Seafood Watch.
10. Energy efficiency efforts are implemented where possible
If a restaurant implements all 10 of the qualifications, they are designated as a Platinum Level Ocean Friendly Restaurant!
Yesterday, Team Marine attended an OFR training session at the TOMS flagship store in Abbot Kinney. We met with Josephine Miller from the Santa Monica Office of Sustainability, who gave a great presentation on recyclable food containers. Team Marine was educated on new nationwide OFR criteria and proper recycling practices for restaurants in Santa Monica.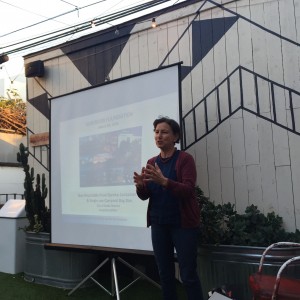 Some information gleaned from Josephine's presentation included examples of transitions from plastic packaging to paper packaging, even in franchise restaurants! Additionally, we learned that bioplastics (under #7) are not able to be composted with Santa Monica's current program — as of now, they need to be composted in a special process. Interestingly, plastics with no number are actually the banned polystyrene (#6).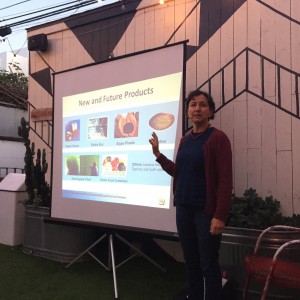 We were happy to learn that Santa Monica aims to be a zero-waste community by 2030, with 95% landfill diversion! Restaurant patrons: you are also allowed to bring your own reusable takeout containers and pack your leftovers yourself — no intervention from the kitchen needed.
The link to the City of Santa Monica's Non-Recyclable Food Service Container Ban website is http://www.sustainablesm.org/container
For more information regarding Ocean Friendly Restaurants, contact a Team Marine member or Surfrider-WLAM chair Emily Swallow at eswallow@wlam.surfrider.org.