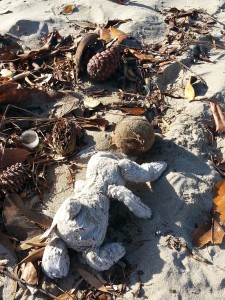 On October 31,2014 (Halloween) at approximately 11:55pm Santa Monica was blessed with rain! Being in this serious drought, we were relieved to finally get such a downpour. However, each year as the first rains come normally in the month of October or November those rains bring with it the "First Flush". This phenomena is when these first rains sweep all of the trash down into the storm drains then out and into the ocean. What trash remains is simply littered on our beaches. For years Team Marine has continuously gone out to document this at our local Pico Kenter Storm Drain and on Halloween when we noticed it really started pouring we activated and sent out an urgent message to all members to get to the beach ASAP! It was difficult to get there since it was Halloween and we were all over the place enjoying some healthy fun but that wasn't going to stop us. We successfully got 3 members and some of their friends to get down to the storm drain as well as Mr.Kay who was the first one there! They were there documenting the huge amounts of trash going endlessly through the drain as it created a huge channel with its powerful flow leading directly to the ocean. Sadly, it is nearly impossible to capture this trash since the pull of the water is enough to pull us in as well and our safety is always first in these situations. It is truly a shame because we have roughly estimated that at least 2,000 pounds of trash goes through during first flush because there are no boundaries for storm drains and it not only collects the litter from Santa Monica but also some parts if the greater Los Angeles area.
Fast forward about 10 hours a greater portion of team marine members go out to the Pico Kenter Storm Drain for an emergency clean up. We were there for about 5 hours in total and although we filled nearly 6 trash cans with all of the cigarettes, candy wrappers, straws, Styrofoam, plastic bottles, and other miscellaneous items all of our efforts was not nearly enough to make a difference in all of the trash that was littered on the beach. Not to mention all of the trash that made its way to the ocean and will probably be mistaken for food by marine organisms. We know how impossible it is to capture all of this trash once it passes the storm drain so we propose a solution: deploying a boom net at the mouth if the drain so that it stops the trash as it arrives there and then machines can (to put it simply) vacuum it up. We have repeatedly offered this solution to our amazing city and we hope that this year we can all collaborate successfully to deploy it.
Even though this would greatly decrease the amount of trash that makes itself into our oceans every year we want to make clear that this is not a permanent solution. The solution is the end of production of single use plastics and the only way to do that is to refuse single-use plastics! If you make the change today and choose to refuse these products then the industries will have no choice but to stop producing them and switch to a more renewable and sustainable product.
Here's to more rain and with it a cleansing of single-use items!